July 15, 2021 – CHICAGO. Today, Jiangxi JDL Environmental Protection Co Ltd, (SHA: 688057) released the results of a DNA benchmarking study conducted by Microbe Detectives' that quantifies the unique biological nutrient removal characteristics of JDL's patented FMBR process.
The Facultative Membrane Bio-Reactor (FMBR) is unique biological wastewater treatment process that simultaneously removes carbon (C), nitrogen (N), and phosphorus (P) in a low DO condition (<0.5 mg/L), in one process step. This enables significant energy savings and a much smaller footprint, compared to traditional wastewater treatment processes which require multiple processing steps. Read more at watertrust.com/fmbr-study.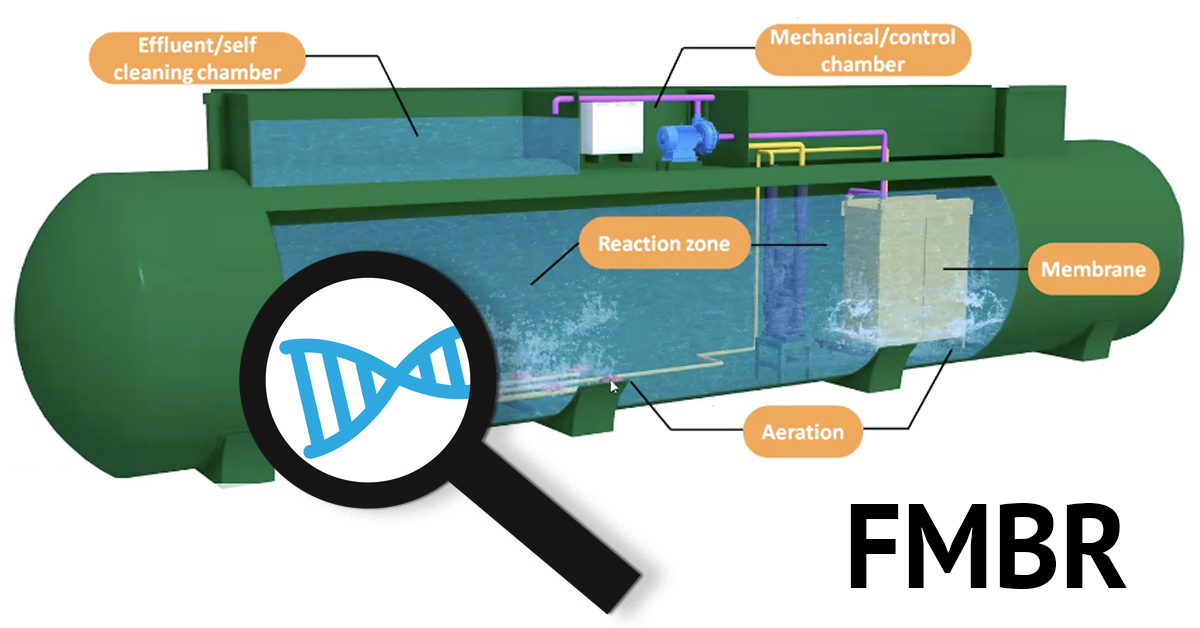 Since commissioning in November 2019, JDL's FMBR Pilot Demonstration in the USA has replaced a legacy sequencing batch reactor (SBR), to process 5,000 GPD of wastewater generated by the Plymouth Massachusetts Municipal Airport and surrounding restaurants. The documented benefits include:
77% energy savings as compared to the replaced SBR system
65% reduction of biosolids volume requiring offsite disposal
75% smaller footprint
30 day installation
Microbe Detectives (MD) applied its standard 16S DNA sequencing methods, specialized for wastewater BNR analysis, to analyze 13 samples of the FMBR Pilot collected over one year. The purpose was to help JDL see, measure, and control the FMBR microbiome for optimum nutrient removal performance.
In a 2nd phase project, MD compared DNA data of FMBR Pilot samples, to MD DNA data of 675 samples from 18 municipal wastewater BNR processes, dispersed across New England, Midwest, Southwest, Rocky Mountains, and West Coast geographies in the USA. All data was anonymized.
DNA data confirmed the FMBR Pilot system mainly utilizes Simultaneous Nitrification/Denitrification (SND) bacteria to remove nitrogen, which requires 20-30% less oxygen and 40% less carbon than traditional methods. This translated into a 77% energy savings. Dechloromonas (avg. 8.3% in FMBR vs 1.0% in BNR benchmarks) and Pseudomonas (avg. 8.1% in FMBR vs 3.1% in BNR benchmarks) were the most abundant SNDs observed in the FMBR.
Tetrasphaera (avg. 4.0% in FMBR vs 2.4% in BNR benchmarks), a Denitrifying Phosphorus Accumulating Organism (DPAO), was also observed in high abundance in the FMBR. SND and DPAO bacteria, have stronger endogenous respiration. This translated into a reduction in sludge production by 50%. Combined with other factors, annual biosolids volume requiring offsite disposal was reduced by 65%.
About JDL Global Environmental Protection
JDL Global Environmental Protection is a specialist in water pollution control management, Inc., based in New York. It is a subsidiary of Jiangxi JDL Environmental protection Co., Ltd., located in Nanchang, China. Using naturally forming microbes that develop under specialized environmental controls, FMBR uses significantly less energy than traditional wastewater treatment methods. The microbes simultaneously remove carbon, nitrogen, and phosphorus in a single tank to meet effluent discharge permit requirements. A substantially smaller volume of biosolids is leftover that requires offsite disposal. JDL invented the FMBR in 2008, and now holds 47 invention patents across the USA, UK, France, Japan, China, and other countries. Over 3,000 systems have been installed and commissioned across 19 countries. JDLGlobalWater.com
Water engineers, operators, and scientists rely on Microbe Detectives' DNA analysis services to see, measure, and control all the microbes that remove and recover Carbon (C), Nitrogen (N), and Phosphorus (P) from waste streams, digest organic waste, and produce clean renewable resources. Over the past seven years, MD has applied next generation DNA sequencing to help solve water resources challenges and opportunities for municipalities, consulting engineers, suppliers of technology, communities and industry. A 2014 graduate of the Water Council BREW accelerator, MD has been recognized by the 2015 Wisconsin Innovation Awards, 2017 WEF Gascoigne Award, and 2018 WEFTEC/BlueTech Research Innovation Showcase. MicrobeDetectives.com.
---
Post time: Jul-16-2021